Floor Plan
Search through our floorplan options to find the right home for you! Browse the floor plans of our 1-, 2-, & 3-bedroom apartment homes to find which style best fulfills your needs and suits your lifestyle. This is everything you've been searching for in beautiful Largo, FL!

Dishwashers are in select units only. In most 1-bedroom and 2-bedroom/1-bathroom floor plans, we have replaced the dishwasher with a European-style clothing washer/dryer machine. All 2-bedroom/2-bathroom and 3-bedroom floorplans have dishwashers and a clothing washer/dryer unit.
No matches
Please expand your search criteria or start over.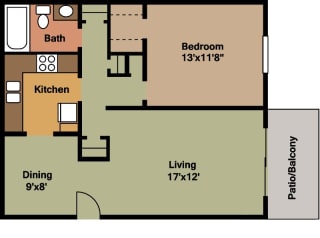 One Bedroom One Bath 750 sq ft
Map View